Part 1
Author: Dav Pilkey
Format:Trade Paperback, 176 Pages
Ages 7 - 10
Published: October 1, 2003
Publisher: SCHOLASTIC INC
Strangely enough Part Two picks up right where Part One left off. Coincidence? Don't think so, after all it is the second part of the cliffhanger and that's where they usually start up again. So the second part of our story begins with robo-boogers and ends with…Ha! We're not telling you that, no spoilers here…just know that this book is a monster-mashin', robo-wranglin', time-travelin', brain-switchin', nose-pickin' good time.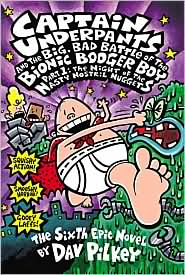 Part 2
Format:Trade Paperback, 175 Pages
Ages 7 - 10
Published: reissued September 1, 2003
Publisher: SCHOLASTIC INC
George and Harold's latest prank has snotty school brainiac Melvin Sneedly seeing red, and he has a plan to get them back. But when Melvin tries to transform himself into a bionic-powered super boy, things go from bad to worse and the Bionic Booger Boy is born! Will Captain Underpants beat this blobby behemoth of blech, or is the entire world doomed to drown in disgusting nose dribble?
Jacob's thoughts:
Melvin makes a machine called the Combine-O-Tron 2000 that switches up things but Melvin sneezed at the wrong time and the machine also made monster boogers. Now Captain Underpants thinks he can fly because they switched up Melvin & Captain Underpants' brains! They make a time machine to go back and fix things but end up seeing dinosaurs. This book is about them fighting boogers. I really like when they change the letters on the boards so that they say silly things. My favorite part was when a guy got squished by a tank. I liked these books and give them two thumbs up.
Mom's thoughts:
I know some people may shy away from a book about potty humor and boogers but if it gets my kid reading, I'm all for it! Jacob is at the Grade 2 reading level but I am sure he did not read everything on each page instead he used the pictures to follow the story. After his first
Captain Underpants
book, Jacob starting writing his own comics just like George and Harold from the series. I love that these book have got his creative juices flowing and he is now making up his own stories.